Portrait of Queen Alexandra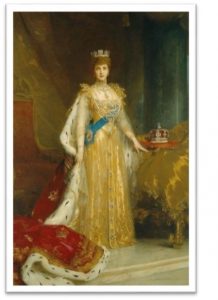 Princess Alexandra Caroline was born in Copenhagen, Denmark in 1844. In 1863, at the age of 19, the beautiful and vivacious Alexandra married Edward VII, Prince of Wales. As queen consort, Alexandra became very popular as a result of her great charm and dedication to her family. She had a strong character and did much to help the poor and suffering.
There are many features in Pietermaritzburg which bear her name: Alexandra Road Alexandra Swimming Bath, Alexandra Police Station and Alexandra Park.
The life-sized portrait, which hangs in our library, is an unsigned copy of the original which was painted by Sir Samuel Luke Fildes (1843-1927) in 1905. This portrait originally hung in "Kings House" in Durban – the official residence of the old governors, and the Royal family when on visits.
When the Republic came into being in 1961, the portrait was transferred to the Natal Museum in Loop Street, where it hung until 1983. In that year, it was donated to Alexandra High School, the companion portrait of King Edward VII being given to King Edward High School in Johannesburg.