Latest News
2023

​
Art Exhibition

Girls' Basketball

Women's Day Assembly

Grade 12 Visual Art

In Memoriam

Merit Awards Assembly

Alex Culture

Merit Awards Assembly

RCL Elections

Grade 11 Market Day




Read the latest 

TALEX

Written by Alexandrians, for Alexandrians.

Alex EcoClub
 

#She Moves

Orientation Week 

Swimming League

In Memoriam

Leadership
2022
Founders House

New Deputy Made Official

Alex Community Service

Senior Academic Awards Ceremony

Leadership Recognised

Saying "Goodbye and Good Luck

Academic Achievement

Leadership 2023

#GirlTalk

Teachers are People, Too!

Art Exhibition

Alex ArtClub

Art Excursion

Alex EcoClub

Amanzimtoti Tournament – 20 August 2022

Alex Debating

Rugby 7s Champs

Term 3: Extra-Murals

EcoClub Excursion

Merit Awards Assembly

Physical Science Excursion 

Leadership Workshops

Term 3: Extra-Murals

Alexandrians Taking a Stand

Alex EcoClub

Term 2: Alex Art Scene – Visual & Performing Arts

Life Orientation Workshops

Alex Netball

Founders House Excursion

In Memoriam

Netball Champs

Poetry Club

#She Moves

Classroom Activities

Junior Academic Awards Ceremony

SANBS back at Alex 

Careers Day 

Alex Culture Thrives

Meeting with the Future

In Memoriam

Term 1: Alex Back in Action!

Welcome to Alex High!




Democratic Elections
2021
Senior Academic Awards Ceremony

Secretaries Lunch
Dramatic Arts Workshop

Heritage Day 2021

Grade 12 Art Exhibition

Art Excursion

Netball Stars

ArtClub Project

In Memoriam

In Memoriam

#She Moves

Leadership
 

Community Outreach

Junior Academic Awards 

Teaching Excellence Recognised

First Day @ Alex

Democratic Elections

In Memoriam

Professional Development Workshop

Farewell, Not Goodbye

Academic Achievement
2020
Senior Academic Awards Ceremony

Grade 12 Art Exhibition

Winner of

Prestigious Award 

Netball Champs

Return to School After COVID-19

Life Orientation Workshops

Grade 11 Market Day
Cricket vs Sweetwaters Hub (15/02/2020)
On Saturday Alex made 139 runs (all out) and Sweetwaters Hub made 92 runs (all out).
Blake took 4 wickets and Sihle Lumkwana took 3 wickets. Top scorers were Siyabonga Mbini (40 runs) and Yasipha Mabandla (25 runs). Alex wins by 47 runs.
Well done boys!
Academic Awards (14/02/2020)




At the Academic Awards Ceremony, held on Friday last week, Alexandra High School presented an Honours Certificate and the Price Waterhouse Cooper trophy to Teri Perumal, the Dux of the class of 2019. We wish her well in her chosen field of Accounting.

With this ceremony Alexandrians celebrate the academic achievements of the previous year. 

Parents of prize-winners are invited to join us in acknowledging the accomplishments of those learners who always give of their best to realize their potential.
| | |
| --- | --- |
| | |
| Basketball Champs | Founders Assembly |
| | |
| New Parents Evening | SANBS visit to Alex |
Alex 1st vs Carter 25/01/2020
Alex went in to bat and were all out for 223.
Uzair Cotwall scored 54 runs for his team.
Carter scored 143 runs, all out, with Sihle Lumkwana taking 4 wickets. Alex wins at home with 80 runs.
Congratulations boys!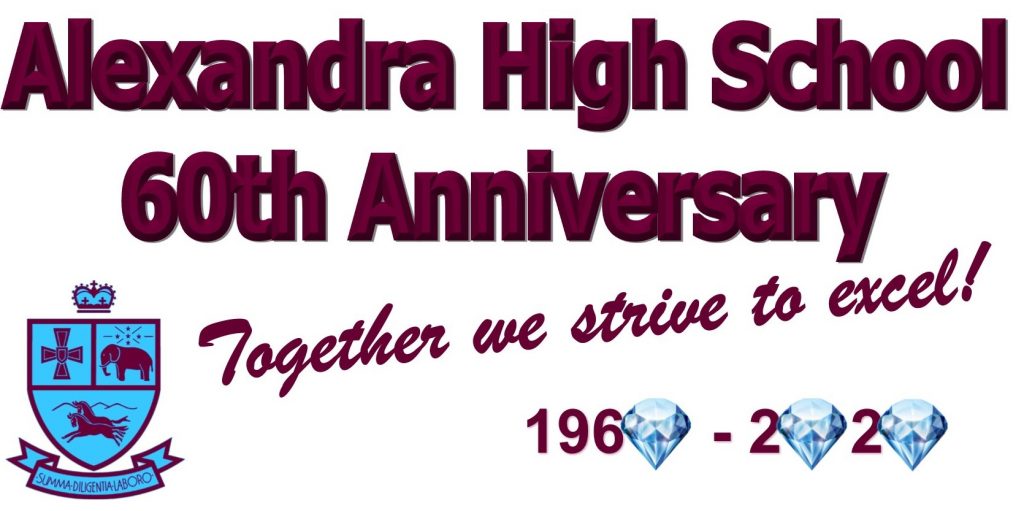 2019
Wildlands Donate Desks for New Shelter